...REVIEWS !!
HEX DISPENSERS
"s/t"LP/CD
Love Is my Bat 45
Winchester Mystery House LP/CD
III LP/CD

h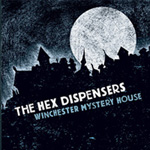 ..
..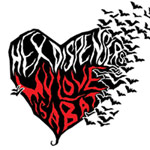 german dutch italian spanish french slovenian
ENGLISH
RAZORCAKE (USA) OCT 2015 Is it okay to review friends' bands even if you were a die-hard fan of the band long before you became friends? I hope so. Putting it plainly, Hex Dispensers are not just one of my favorite bands of the last five or ten years, they are one of my favorite bands of all time. Everything about their music works for me. It's been a long time since their last LP Winchester Mystery House came out and III is well worth the wait. Part of the record takes songs that came out on various (out of print) 7"s in the last few years, and re-records them with the new lineup of the band (long-time bassist Rebecca moving to second guitar and Drew Schmitz stepping in on bass along with, as always, Alex Cuervo on guitar and vocals and Alyse on drums). It took me a few listens to get used to the new versions of some of the songs such as "Parallel" and "Agatha's Antlers" because I listen to the original single versions so often but then the album as a whole clicked in my mind and it became a slice of perfection. Brand new songs such as "Trapped in the Amber" and "I Hope the Sun Explodes Today" are ridiculously good. I guess it's obvious how much of a super fan I am. Unapologetically, I will add. Just know this: Hex Dispensers are essential listening. I don't care who the band is, I will only say that if I believe it one hundred percent. Go get this record yesterday! (TS)
AUSTIN CHRONICLE (USA) July 2015 The most funereal album of 2015 comes crafted by a band walking a tightrope over the chasm connecting the Wipers and the Misfits since 2007. Ten tracks bristle with propulsive energy, grimy guitars, and enough melody and hooks to fuel an AM radio afternoon in 1965. Yet the mood is so drenched in dread it will send a depressive straight to his or her therapist in minutes flat. Much like Roky Erickson post-Rusk State mental hospital, Alex Cuervo's local quartet clearly equate the blue glow of black & white midnight TV creature screenings with whatever sick noise courses through their heads. "There must be a parallel/ Who stayed and lived to tell the tale," intones "Parallel," the first track. "Another me whose mother cried/ Another me who lied." Or, as the anthemic "Personality X-Ray" shouts, "That person is a time bomb/ That person is a nightmare factory." Hex Dispensers have clearly sussed out that the modern world is far more hellish than anything Dario Argento could lens. 4,5/5 (TS)
NOISEY (USA) MAY 2015 When you're a teenager you feel like a monster. Then you get older and you don't feel that way unless you hate yourself/feel completely alienated from human society or, in some rare cases, you are an actual monster, like, with horns and scales and whatnot. The Hex Dispensers make music for both kinds of self-aware denizen of the night. The Hex Dispensers are a poppy dark punk outfit out of the Austin axis, where most good poppy dark punk spring from; tentacles wiggling like nobody's business. I hesitate to try to describe The Hex Dispensers. Not because they are indescribable but because the obvious description (influenced by Ramones, horror, b-movies, Cthulhu and all the various liars and Manchurian Candidates in our midst) doesn't do them justice. Most bands that sound like the Ramones are boring. Most bands influenced by horror and b-cinema, generic. Most bands that are influenced by Cthulhu just…aren't. So why are Hex Dispensers one of my favorite rock and roll bands, a band whose music I return to again and again be it bar, van, or just headphones at night? I don't know. Why is Rosemary's Baby more than just goat-man slash fiction? Hex Dispensers have the charisma and sure hand of veteran Satanists, along with a sly humor and a simplicity that's deceptive like, uh, Satan I guess. Anyway I truly believe that they are dealing in larger forces. Or they are just very good at bats releasing, dire wolf kissing Rock and Roll music. Theology after all is not my strong suit. Hex Dispensers have a new album, called III (just like the grandson of someone spooky!) and it has a song called "Agatha's Antlers" that is totally not a metaphor but also is and it's the most beautiful love song of 2015. The whole album is a slow burn stunner, like The Spits playing Carrie's prom, and we at Noisey are delighted to be able to premier the stream of it in its entirety. The Hex Dispensers III comes out on Alien Snatch! Records on June 6th (ZL)
CVLT NATION (USA) MAY 2015 Austin, Texas horror garage punk institution HEX DISPENSERS will be releasing their third LP, aptly titled III, on June 6th, 2015 (the 9th anniversary of the very first Hex Dispensers rehearsal on 06/06/06, by the way). Below is an exclusive streaming track we're excited to reveal, as well as an interview with Alex Cuervo, the vocalist, guitarist, and mastermind behind the power trio. III is a hook-laden, spooky rocker in the best tradition of bands like the Spits and the Marked Men, but unlike them, and in keeping with the tradition of Hex Dispensers' previous two LPs, there is a decidedly dark and supernatural tone to the album. III is an all-out, raging, melodic, purist garage-punk beast of an album from the dark side. III will be released on Alien Snatch! Records from Berlin. LPs and CDs will be also available soon on the Hex Dispensers' bandcamp page. Listen to the new, exclusive CVLT Nation track, "I Hope the Sun Explodes Today," and read the interview below! The brainchild of horror movie aficionado Alex Cuervo, Austin's Hex Dispensers have been going for one year shy of a decade now – a much longer time than a lot of folks realize. I've had the privilege of seeing them several times, and it's always been a high energy, galvanizing, back to basics punk rock experience. Their first practice session was on the auspicious date of June 6, 2006 – 6-6-6 – and since then the group has cranked out one hook-saturated garage punk track after another. Their first LP's cover art sported a Rosemary's Baby-type baby carriage sprouting Lovecraftian tentacles, and that's a pretty good indication of the band's themes: all things haunted, paranormal, otherworldly, mysterious. III is a dark, garagey journey further into the Twilight Zone. While some tracks, like the arresting "One Less Ghost," have an off-kilter and even sort of Twin Peaks-y feel (I can't explain it other than that), more typical of III are anthemic rockers like "House of Secrets," the kind of melodic punk that might have come about from stirring elements of the Misfits' Static Age and the Spits' first CD (2000) into a bubbling witches' brew of classic American punk aggression. It's the sort of anthemic punk that doesn't deny the importance of catchy, pop hooks but rams those into your eardrums with a three chord punk attack. I asked Alex how he's kept the well-liked band going all these years, about his fascination with horror movies, and where he thinks the Hex Dispensers' music fits into the big scheme of all things punk. Read the interview here (OS)
fasterandlouderblog.blogspot.com (USA) March 2016 Continuing with my series of posts on releases I should have reviewed in 2015, I turn my attention to Austin, Texas standouts The Hex Dispensers. Their latest album, III, was released this past summer on the world-renowned Alien Snatch Records. And let me tell you: this thing will melt your face off! The Hex Dispensers are one of the most unique punk bands of the past decade - and also one of the very best. This is what all "horror punk" bands should aspire to be - a group that grounds its dark sensibilities in a foundation of incredible songwriting and insidiously tuneful melodies. This band manages to combine the best aspects of The Ramones, Wipers, and Misfits and adapt them to the world of modern-day garage punk in a way that's both exciting and completely original. And while the band's lyrics are intriguing and wonderfully disturbing, I don't think you need to be a horror punk fan to appreciate The Hex Dispensers. You only need to have a taste for poppy punk rock with balls - which probably describes the majority of individuals who follow this blog! To me, III is one of those albums that you'll love regardless of how you approach it. You can delve deeply into the lyrics and really experience all that death and depression, or you can just blast the volume and bob your head to some of the catchiest punk rock you could ever hope to hear. What an awesome record! Vinyl and CD are still available from (Josh Rutlegde)
RAZORCAKE (USA) OCT 2009 The Hex Dispensers are the magic bullet. What they pull off is so fraught with potential failure, that the fact that they are any better than passable is a cause for celebration. Let's establish some early facts: the Hex Dispensers are great and they've made their best album yet. Let me explain some larger implications. Bands of ....Danzig ripper-off-er-ers are clowns. Here's a fun thing to do. For every devil-locked spook who's taking themselves a wee bit too seriously at their respective musical duties, I just imagine them with bright red noses, big-ass shoes, and oversized ties. For every skeleton-handed glove, I imagine bright pink polka dots. If you're asking me to willingly suspend belief that the Misfits never existed and what you're doing has one iota of a creative spark, I might as well have fun with it. But the Hex Dispensers, although they tread in the operatic darker lands of music's psyche, they do it with an Edward Gorey precision and a Tales from the Crypt style of understanding of both blood spatters and the psychology of titillating terror. They're both simultaneously paranoid and dance party of the apocalypse-sounding, filtered through the dark charcoal of years playing in small bars and backyards. The album ends with a kick-ass cover of Devo's "Gates of Steel." If you're on a tight budget, and can only buy a couple of records this year, here's one of my top recommendations. (TT)
VICTIM OF TIME (USA) OCT 2009 It sure seems like it's about time for another wallop from Austin, TX's domineering pop perfectionists, the Hex Dispensers. This week's BREAKING SOUNDS entry spotlights their sophomore LP offering as they nail it all down with a tightness and righteousness that's hard to beat, and always easy to enjoy. Forming out of the collaborative thunder of Alex Cuervo, Dave Bessenhoffer, Tom Kodiak, and Alyse Mervosh's insidious restlessness, Hex Dispensers blasted forth just over two years ago and knocked the socks off anyone who got to witness their bombastic powerpop firsthand, and delivered a crushingly great debut LP on Alien Snatch which left us panting for more. On their latest LP, Winchester Mystery House released last month on Douchemaster, we find the Hex Dispensers honing their craft to a fine edge, locking in grooves that shake your inner monkey back and forth mercilessly and delivering a walloping punch to their already decimating and deadly pop formula. As expectations are set high for most second albums, Hex Dispensers definitely don't disappoint as they bust out vigorous, infectiously-driven high-speed pop jams that stick to your soul and drive you wild with wanton exuberance. The earthshaking drums, slashing guitars, and those irresistible vocal hooks may even evoke the finest moments of contemporaries the Marked Men, and man o' man is that ever a slice of heaven, but Hex Dispensers easy one-up their contemporaries with nary a broken sweat. They even cover one of my all-time favorite DEVO songs, "Gates of Steel" and crush it's particles into a death ray of uninhibited power, as they don't just cover it like they did with Tubeway Army on their debut, they make it their own. Everything from the immaculate sleeve design to the beautiful splattered platter exudes eye-catching brilliance, so do the pop-side of your mind a real favor and grab this LP before your chest caves in from the inevitable lack of blood pumping that results from not having this incredible Hex Dispensers LP at hand.
RAZORCAKE (USA) OCT 2009 I was dragged kicking and screaming into the "garage punk" world, being entirely suspicious of the genre's good-timey nature and undeniable image consciousness. Thankfully, I ended up coming across a handful of bands that I truly love, and The Hex Dispensers are right at the top of that short list. I liked their first LP quite a bit, but I was completely blown away by both the Lose My Cool and My Love Is a Bat 7"s. Winchester Mystery House, their second LP, has torn my head clean off. This is the band's fastest, darkest, and most memorable stuff to date, hands down. The verses are as catchy as the choruses, the music is more melodic yet somehow more evil sounding, and the vocal performance is absolutely killer. As far as I'm concerned, The Hex Dispensers put the rest of their currently über-hip sub-genre to shame. Awesome. (DW)
FINEST KISS (USA) SEP 2009 There certainly is no shortage of punk bands these days, check out the Vans Warped tour line-up or head over to the Funhouse any night of the week if you don't believe me. But when it come to punk bands that capture my imagination, sound tough, and still write a hook like they use to back in the day there aren't that many. I'm talking bands like Agent Orange, Channel 3, Social Distortion, Husker Du, Wipers and of course the Clash and the Ramones, bands that transcended the label of punk rock incorporating other styles of music into their own. Now don't get the wrong idea here, the Hex Dispensers are not re-inventing the wheel or punk rock for that matter, but they are writing songs that are jaw-dropping punk rock anthems with an authenticity not seen since the days of the Wipers and Mission of Burma. Their new album, just released on the world by Douchemaster is 12 songs of raw, unadulterated, fist pumping rock n' roll. Singer Alex Cuervo has a voice that immediately brings to mind Joey Ramone or Joe Strummer and brings an anthemic quality to the songs. This is the Austin, Texas band's second full length, but their first to be released in the US. Their first self-titled record was put out on Germany's Alien Snatch records (who also put out last year's excellent Love Boat record). That record had a great cover, but it was mere child's play compared to Winchester Mystery House. On this new record, they come off as more cocky and confident, the sound rips from the speakers and the songs are just plain better. The highlight of record has to be My Doppleganger On, an anthem against conformity, but there are other songs that are nearly as blistering like O-B-I-T, It's Your Funeral Minion and their cover of Devo's Gates of Steel. That Devo song always begged to be turned into a full throttle anthem and the Hex Dispensers have finally done just that. Things move fast these days, it's only taken two records and as many years for the Hex Dispensers to have become a juggernaut of punk power and prowess.
CHERRYBOMBED (USA) SEP 2009 Austin's The Hex Dispensers just put out their second LP, Winchester Mystery House on on of my favorite labels, Douchemaster/ALIEN SNATCH!, home to the equally excellent Davilla 666. Members of the band have collectively been in at least 10 other bands, including another one of my favorite things, Seattle's Tractor Sex Fatality. Hex sounds like a cranked up Jim Carroll driving by your house in a hearse doing 80 in a school zone with Johnny Ramone riding shotgun. The bands 2009 record, Winchester, is yet another strong contender for my favorites records of 2009. Hex has delivered some absolute throw-back, full-throttle punk rock ear candy for all. At least those of us with classy ears.
RAZORCAKE (USA) OCT 2008 "My Love Is a Bat" b/w "Cloak and Dagger Complication": 7" Although this description may sound like ass, I promise it's not: The Marked Men meets the Mistfits. Drain any Glenn Danzig delusional weightlifting ego out of the jar, leaving only the beefy, dark melody jiggling around in the glass. Forefront the musical anxiety of the Marked Men—tightly wound guitars and voices that sound on the verge of a breakdown (that you're more than willing to sing along to as they're driving you off of a cliff)—and you've got the right mad scientist glasses on when looking at what makes the Hex Dispensers tick. Two more great songs from a band I haven't heard one bad track from yet. One to keep an eye peeled for. This was a tour 7". Five hundred made. –Todd Taylor (Alien Snatch) (TT)
RAZORCAKE #40 (USA) SEP 2007 There aren't many bands in the underground for whom I'd say "fuck it" and quit my job so that I could go on tour and roadie for them. The Hex Dispensers are one of those bands. Seeing and hearing these songs played every night for a month or two whilst throwing back beers, snorting up drugs, screaming "MEOW-MEOW-MEOW!!!" during "The Crone [99 Cats]," and loading gear into a van would certainly take years off the end of my life, but it would be absolutely worth it. These tunes are a dirty, menacing brand of dark-wave garage pop, the aural equivalent of Black Sunday and the Spits taking a bunch of speed and dancing a midnight, cemetery tango on the grave of the Riverdales. Assuming the Riverdales are dead, of course. Lyrically, the Hex Dispensers tackle popular and kick ass topics such as assassins, E.S.P., haunted TV stations, and witchcraft. The downright groovy "Arsenic Milkshake" concludes the CD with the fantastically sinister lines: "I'll make an arsenic milkshake/Delicious to the end/I'll make an arsenic milkshake/It's sweetened with revenge." Speaking of which, has anyone seen the Hex Dispensers roadie? I wanted to invite 'em down to the malt shop for a drink. (JB)
MAXIMUM ROCK N ROLL (USA) SEP 2007 Pumped up dark wave, like a hurried FRUSTRATION or a more riffed out MANIKIN. There is some TUBEWAY ARMY influence, which is further confirmed by their great cover of "Down in the Park." An atmospheric dirge hangs over the tunes, and that cloak and dagger menace as perfected by THE FEELERS and FINAL SOLUTIONS sits heavy. When they go for the throat in that classic punk way, reminders of THE WIPERS and OBSERVERS come flooding in; dark and super catchy, with songs that'll swim around your noggin for years. I can already feel the buzz around this band, now please come to San Francisco (SD)
JERSEY BEAT(USA) AUG 2007 A furiously raucous blast of pure go-for-it hard-crunching dynamic rock'n'roll powerpop noise, done with a stirring sense of sheer fun and aggressive vitality that's impossible to either resist or dislike. The relentless jackhammer drums, snarly shouted vocals, grinding hacksaw guitars and heavy churning basslines create a fiercely raw, surging and unstoppable forward-ho sound which explodes from the speakers with a positively infectious joy and energy that's really something to hear. A total treat. (JW)
NOW WAVE MAGAZINE (USA) JAN 2007 Alright - I gotta ask. What is it about Austin, Texas? What in hell's name is going on down there?! Is there something in the beer water? Is it in the beef they eat? Has the whole town sold its collective souls to Satan in exchange for the power to rock beyond all mortal capabilities? In my time in the zine biz, I've never known of another city that's produced more great bands per capita than Austin has the last few years. The Hex Dispensers are the latest addition to the list, and they're moving fast towards the head of the class.
The term "all-star band" seems almost redundant within a punk hotbed like Austin. But it certainly applies in the case of the Hex Dispensers. Alex Cuervo (Gospel Swingers, Feast of Snakes, King Sound Quartet, The Now Time Delegation), Alyse Mervosh (The W.I.N.K.S., Manikin), and Tom Kodiak (The Kodiaks, Dirty Sweets) are all known to close followers of today's punk. Cuervo and Mervosh were last heard in the very great The Brotherhood of Electricity, while all three have played together in This Damn Town. Their first album as the Hex Dispensers is a true delight – short and exciting and bound to leave you wanting more. What a sound: real fuckin' catchy, with great energy, and a style that marries Misfits/Ramones oldtime poppy punk to modern garage heat a la the Marked Men. At just ten songs and a running time of less than 25 minutes, this album is like a movie that wastes no time getting to the good parts. It's all kills and thrills, fired by a furious pace and hooks galore.
Thematically, you could call these songs "horror punk". But it's not monster/zombie B movie type horror. It's more like Stephen King/Edgar Allan Poe horror - nightmarish, macabre stuff illuminating the evil that lurks inside us all. Many of these songs come off like horror-themed metaphors for the dark underbelly of male/female relationships. Songs about evil eyes, killer tentacles, and witch's curses cut to the heart of the very real terrors brought on by toxic relationships, acrimonious breakups, and romantic obsession. "The Crone [99 Cats]" is pretty much your typical love story - girl writes boy a Dear John letter, kills his dog, stuffs the note in its mouth...boy turns to witchcraft to bring about the girl's demise. Doesn't that perfectly symbolize the evils that men and women inflict upon one another every single day? And any man who's ever cohabitated with a woman will be able to relate to the horrors conveyed in "Are You An Assassin?":
There's a look that you get sometimes/
Like a spider waiting for a fly/
I can see it burning in your eyes/
And I know something is about to die/
Elsewhere there are less metaphorical tales of terror. "Arsenic Milkshake" is an ode to your proverbial sweet revenge, while "Channel 13 is Haunted" is a paranormal romp. And fitting in perfectly is the group's choice of cover material, the old Tubeway Army dittie "Down in the Park". Who knew that a song about androids raping and killing humans could be such fun?! Well, well, well, Daniel...You sure know how to pick 'em, brother! The Alien Snatch hit factory had been quiet for some months. But with this thing now on the streets, the party is once again swinging. Get hexed, people! (JR)
QUIRKEE (USA) AUG 2007 Hey it's like a Beerland all-star team! Alex Cuervo from This Damn Town , Blacktop , Gospel Swingers etc., Tom Kodiak of The Kodiaks , This Damn Town and Alyse Mervosh of Manikin, This Damn Town are the Hex Dispensers Short, sweet, and to the point. This self-titled debut is kicking my ass. Driving, infectious, straight-ahead, fuzzed out, (I hesitate to say "pop" or "punk" let alone the two of those words together, though both words do come to mind) garage-y, hook laden rock reminiscent of The Spits, Ramones, Jay Reatard and everything right. In fact Mr.Reatard did the mastering for this record. If you like being drenched in other people's sweat after tying one on in a dank overcrowded club then this record is for you. Plus there's an oh so nice Gary Numan er Tubeway Army cover of Down In The Park . Oh, I wanna go to a house party!!!! (Ed.)
HIGH HEELS SLUT #6 (BELGIUM) AUGUST 2007 This Damn Town is one of those bands I really have a soft spot for in my hard, so when they put this one (temporarily?!) to rest three of them moved on to the Hex Dispensers: Alex Cuervo (Blacktop, Feast Of Snakes and a whole bunch more), Alyse Mervosh (a.o. the W.I.N.K.S.!) and Tom Kodiak (Kodiaks, Dirty Sweets). Needless to say I do had to hear it, so I bought this debut release straight away without having heard one single note of the band and right now I do fucking know why I needed this record and why you ALL should buy it as well: the Hex Dispensers just delivered a smashing and sizzling piece of thick black wax that will end on top of your fave list without any doubt. At times some This Damn Town melodies shine through, but all soaked in heavy fuzz and raised on an Oblivians menu. All of this got captured on tape in an excellent way by Mark Ryan from the Marked Men, who doesn't only know how shit like this has to sound but who's also got the skills to actually do it as well. You're in for ten hit blasts that should be played all day long in whatever place and state you are. Ten downright excellent songs like "H.D. Local 23", "Forest Ray Colson", "Channel 13 Is Haunted" or the truly amazing "Are You An Assassin?"…I'm hooked, I'm hooked, I'm hooked!!! Obviously an interview was sent over straight away, so if you don't see it featured here: we're not the ones to blame!! (WC)
LEFT OF THE DIAL (USA) AUGUST 2007 Mastered by Jay Reatard and produced by one of the Marked Men (who these lads resemble, though with dirtier, more scattered, slightly less amped-up Dickies-inflections) until all the fuzz is tightly compacted and rolled out at 78 rpm, this bastardized, but hooky pop has members stretching back into the folds of Dirty Sweets, Now Time Delegation, Gospel Swingers, and a hundred more, it seems. Granted, there's not a lot of variation here, but I do enjoy some of the tags they've garnished from reviewers: "blues-poisoned power pop," "evil pop and arsenic rock," and so forth. At best, they are tinged with rough'n'ready melodic prowess and are catchy as hell, like "Forest Ray Colson," bemoaning the death of an Okie by the quick force of the almighty police. But then the short curtain call of "Arsenic Milkshake" resembles all that Estrus rock from the 1990s and could be the cousins of "cemetery" rock, shimmy shammy rock, handclap 1960's Sonic-powered (hmm, replace strychnine with arsenic, anyone?) punk. "InsomniACK" (nice explosive play on words) reveals the unholy jitteriness, frustration, and madness of lying awake with your heart pounding, replete with voices in the head and feeling like a "whirling dervish" as you spin in bed under the glare of a "clock full of hate." It captures the schizo feeling with percolating pounce and punch. "The Crone" unleashes the hex and vexes of a man bent on repaying the asshole who killed his dog, but first he must devour "magpie, firefly, rattlesnake, and vulture pie." Or perhaps that's the cursed rime with which he fogs the man's life. Who ever guessed "meow meow meow" (I think that's what spills from the chorus) would capture the voodoo/witch doctor sentiment and animalism. It's back to the Estrus rock on "Tentacles," with its wall of sleaze-guitars and Oblivians gone slightly pop manners. Thru the "deep dark woods" the "milky white tentacles" the color of "sun bleached bones" lies in wait. It's the folklore of haunted forests, all the allegories of Puritan worries mixed with drive-in, B-movie schmaltz. Then there's the Cramps TV set allusion on "Channel 13 is Haunted," another Misfits meets b/w horror movie set of inferences beneath bubblegum grime pop. Tambourine shake'n'bake haunts "Are you an Assassin" but underneath that jangling belly is the sweet gal who crashes into your life but might just be a "hunter getting in position…tracking every move." The paranoia is thick as rancid malt beer, and even the rare gesture of a softblow guitar solo can't offer reprieve from the surge of "tell me baby baby" fear that comes when she waits "like a spider for a fly." In all, imagine a Nashville-born version of the Vibrators, hooked on matinee movies and voodoo reflux.
DAGGER (USA) JULY 2007 This was thrust into my hand by Ken Dirtnap who assured me I would like it and as usual, Ken was right. I looked inside the cd first (thinking they were a European band, being that they're on the Germany-based Alien Snatch Records) but lo and behold, the band hails from Austin, TX and includes Alex Cuervo. I remembered the name then realized he was in Blacktop (one of 500 bands Mick Collins has led) who I booked back in the early-mid 90's (when Collins ate all of the food in my house….yup, everything) . Right out of the gate this bunch decide to make a statement "H.D. Local 23' sounds like the earliest, catchiest Misfits (before Danzig went all haywire on us) as does the fuzzed-out "Evil Eye." Later on, "Tentacles" get a bit more bottom-heavy while still swingin' the bat in the right direction,. They also do justice to a Tubeway Army (Gary Numan's old band ) cover of "Down in the Park." I knew when I heard that this record was done up real nice (ie: recorded and mixed) by Mark of The Marked Men it was gonna be good. And it is. Not sure what it is about Texas but when bands from that state want to, they can rock your socks off. I can honestly say there is not a bad song on here. Get hexed…now.
SUBURBAN VOICE (USA) JULY 2007 Dispensing (or delivering, if you're in a Judas Priest state of mind) the goods. The goods being a dark, thick garage/punk rock sound that has a purpose and urgency to paraphrase the first song, "H.D. Local 23." The coolness quotient is increased with the "Apocalypse Now" reference for "Are You An Assassin" and the pounding yet catchy properties of the song don't hurt, either. They also have one of the best cover versions I've heard in a bit—a stripped-raw version of Gary Numan's "Down In The Park" and it took me a second to realize what song it was. I also didn't realize there were only two guitars and drums/tambourine making this racket since the sound has so much fullness that it sounds like several instruments, including keyboards. Definitely got the hex on me.
PLASTIC BOMP (GERMANY) OCT 2015 Ich muss zugeben, ca. sechs Jahre nach dem letzten Album und nach einigen Besetzungswechseln, hatte ich kaum zu hoffen gewagt, noch mal ein neues Album der großartigen HEX DISPENSERS in den Händen zu halten. Das lange Warten hat sich jedoch gelohnt. Die Ramones des Wipers-infizierten Texaspunk haben ihr Gespür für treibend eingängige Überhits nicht verloren und so ist auch ihr mittlerweile drittes Album ein absoluter Killer geworden. Auch an den abstrusen, witzig düsteren (ja, das geht!) Endzeittexten ("I hope the sun explodes today"!) hat sich nichts geändert und somit gibt es nicht mehr zu sagen als: Pflichtkauf! Ebenso wie die ersten beiden Alben der Band übrigens auch. (D)
OX #122 (GER) OCT 2015: (KS)
MOLOKO PLUS (GERMANY) JULY 2015 Dance the apopcalypse! Misantrophie, Nihilismus und das Paranormale lassen sich musikalisch auch anders in Szene setzen, als es Bands handhaben, die sich mit der Schminke vom letzten Kinderfasching die Visage anpinseln und dann entweder Vokabeln wie "Ghoul", "Undead" oder sonstige Schwachsinnsassoziationen zu käsigen 80s Horror B-Movies im Namen tragen oder in der skandinavischen Einöde Holzkirchen abfackeln. Wer in den letzten Jahren nicht unter einem Stein gelebt hat und behaupten kann, sich auch nur halbwegs im Garage Punk-Sektor auszukennen, wird um die dreiakkordigen Popattacken aus tiefergelegten Gitarren und Grusel-Folklore der Hitmanufaktur aus Austin, TX nicht umhin gekommen sein. Ihr düster-poppiger Punkrock trieft vor Hooks und ist durchsetzt mit den für sie typischen übernatürlichen Zwischentönen und der textlichen Aufarbeitung eines gewissen existenzialistischen Ekels; file under: Cloak & Dagger-Punk, Pop Macabre, Bubble-Doom, Alienation Wave. Die Themenwahl bedient sich im Genre der kosmischen Phantastik, der narrative mode erhebt den Anspruch einer realistischen Schilderung. Zwischen diesen Parametern liegen in den Texten der HEX DISPENSERS das Absurde und das Grausige selten weit auseinander, wobei die inhaltlichen Schwerpunkte teilweise derart stark in Richtung des Makabren oder Wirklichkeitsfremden lehnen, dass sie an vielen Stellen das Szenario des Grotesken betreten – etwa dort, wo die Anmut des Geweihs einer gewissen Agatha oder die Wandlung des Ichs zum Bernstein-Einschluss besungen wird. Wem das als störend aufstößt, sollte vor Augen gehalten werden, was für eine verbohrte, obstinat-monotone Scheiße all diese ganzen drakonisch mit Patchouli parfürmierten Horrorpunk-Clowns aus dem selben Themenspektrum schöpfen; da wirkt der Lovecraft'sche Hang zum Lächerlichen wie zu Pathos und Kitsch in den Texten auf "III" und den Vorgängeralben um einiges eleganter und unausgereifter und wird insofern zum Kalkül, als dass HEX DISPENSERS so spitzzüngig Distanz zu ihren eigenen Inhalten aufbauen. So brechen HEX DISPENSERS mit dem Kompendium der klassischen unheimlichen Phantastik (Wanderlust, Vampire, Werwölfe, et.c pp.) und formulieren stattdessen eine dem 20. Jahrhundert gemäße Mythologie des Schreckens (Femmes fatales, Terror, das Doppelgänger-Motiv, ...). "III" gestaltet sich unter diesem Maßstab als spooky Pop Punk-Revue, in der Entfremdung, Schizophrenie und Fabulierlust in einem fast schon literarischen Maß aufeinander treffen. Sänger und Songwriter Alex Cuervo erschafft Szenarien, die wie die Vertonung von Strips aus des Feder von Edgar Allan Poe oder aus der "Tales From The Crypt"-Reihe wirken, wie hypnotisches, unterbelichtetes B-Cinema mit der Eindringlichkeit eines chirurgischen Eingriffs am offenen Herzen. Stilistisch sind HEX DISPENSERS auf "III" wie gehabt auf der Achse zwischen der Wucht vom US Blues Punk, dem Sägewerk-Sound vom 90s Estrus-Gunk und und dem flockigem Songwriting von 70s Bedroom Powerpop unterwegs, von RAMONES zu MISSION OF BURMA, von WIPERS zu MARKED MEN, von GOSPEL SWINGERS zu SCREAMERS und SPITS. Alles beim Alten im Staate Texas: die Gitarren hobeln sich durch Düsterpunk-Arrangements in Arsen-Moll, der Bass pumpt binäre Achtel, im Hintergrund klirren eine Heimorgel und windschiefe Backingvocals. Und auch wenn sich Tracks "Trapped in the amber," "Young blood in the river," oder "I hope the sun explodes today" auf perfide Art ins Kleinhirn bohren, um dort Nester zu bauen, bleibt – zumindest meinerseits – der Aha-Effekt wie einst bei "My love is a bat" oder "Forest Ray Colson" aus, deren Hit-Versprechen mit tödlicher Präzision eingelöst wurde. Wahrscheinlich ist es aber Quatsch, qualitative Unterschiede zwischen den Alben abwägen zu wollen, denn HEX DISPENSERS sind seit dem ersten Album auf konstantem Niveau in der Spur, können sich jetzt eben nur nicht mehr auf der Gunst der Verblüffung ausruhen. Daher lässt Album #3 keine Bauklötzer staunen, birgt aber bemerkenswert verdichtete Tracks in einem gewohnt ausgezeichneten Songwriting und treffender Produktion. Must have! Killer! PUNK ROCK STALWARTS! Verpackt wird das in althergebracht detailversessener Manier, mitsamt Poster, bedruckter Innenhülle und nuancierter Gestaltung mit Cuervo-Trademark-Schliff – collector's ambrosia! Der langen Rede kurzer Sinn: entweder man hat es bereits von vornherein gewusst oder aber bis zum Ende der Besprechung durchgehalten und sich dann dem Urteil angeschlossen, dass der Besitz dieser Platte Pflicht ist, keine Widerrede! Gleiches gilt im Übrigen für die Livetermine des rough'n'ready-Quartetts, denn selbst wer keine Karten mehr fürs Get Lost Fest bekommen hat, hat dann gefälligst für einen der Termine in Mannheim (03.09.), München (06.09.), Leipzig (07.09.), Berlin (08.09.) oder Kassel (09.09.) keine Ausrede zu finden.

CRKO (GERMANY) MAR 2010 Winchester Mystery House LP/CD [Alien Snatch] It's my decided opinion that the debut album of the HEX DISPENSERS must be considered as one of nowadays Garagepunk-classics! Based on that fact it's hard for some bands to record a worthy follower. But no problemo for the HEX DISPENSERS! The "Winchester Mystery House" record includes all the ingredients of the debut and improves the sound a little bit. Don't get me wrong - the HEX DISPENSERS don't reinvent their sound from scratch! Why should they?! The sound they produce is so unique, NO ONE is comparable to them at this point. Did you ever read a Lovecraft-story? Have you ever found something comparable to Lovecraft in literature that is NOT only a cheap copy? I haven't! Same goes for the HEX DISPENSERS in music - they are just leaders of the pack. Simple like the RAMONES, gloomy like the WIPERS, but establishing their own unique sound in every single song, especially by Alex Cuervo's hypnotizing vocals and a very special guitar sound. Mark Ryan (MARKED MEN) and Dave Rahn (CARBONAS, GENTLEMAN JESSE) were involved in the recording and aah, enough blah blah from a stupid reviewer - just get this record, it's a HIT! (Bernd)
PLASTIC BOMP (GERMANY) SEP 2009 Kann mich nicht erinnern, dass auf Alien Snatch! Records jemals ein schlechtes Album rausgekommen ist. Die Band hier ist für mich so was wie das fehlende Bindeglied zwischen Bands wie den BRIEFS und auf Deranged Records beheimateten Combos wie den RED DONS und den TRANZMITORS. Insofern ist der im Info angeführte Vergleich mit Genregrößen wie den WIPERS (Wenn dann aber zu weniger komplizierten "Is this real"-Zeiten), MISFITS (Aber nur in Form von Spurenelementen) und den RAMONES (Waren ja auch ein Teil der Säuglingsnahrung im Hause BRIEFS, ebenso wie die von den HEX DISPENSERS gecoverten DEVO) auch gar nicht soooo verkehrt, oder vermessen. Aufgenommen wurde das Werk von Mark Ryan (MARKED MAN), der für eine standesgemäße Produktion bürgt und für den das Wort überproduziert offenbar ein Fremdwort darstellt (Feinschliff by Dave Rahn (CARBONAS). Meine das aber durchaus positiv. Keine Angst, ist auch keine knisternd rauschige Lofikacke, welche in den Semesterferien, über weite Entfernungen, unter zu Hilfenahme von Mamis heimlich entwendeter Wäscheleine, durch ein rostiges Dosentelefon im Fahrradkeller der örtlichen Uni von ein paar Kunstudenten eingespielt wurde. Hört einfach mal unter (www.myspace.com/hexdispensers) rein. Vinylsammler dürfen sich über 180 Gramm schweres Ambrosia freuen, wovon die ersten, auf 106 Exemplare limitierten Freudenspender, auch noch im blau gesprenkelten Zustand zum geneigten Konsumenten kommen werden.
FLYING REVOLVERBLATT (GERMANY) SEP 2008 Schon seit Monaten schafft es kein anderes Release diese Scheibe aus meiner Top 5 zu verdrängen. Verbrochen wurde sie von drei morbiden Typen aus Austin, Texas. Aus einer Gedankenwelt eines E.A. Poe scheinbar kommend, und Tradition und Gegenwärtigkeit von texanischem Punk Rock damit verbindend, gelingt ihnen mit diesem Debüt ein ganz großer Wurf. Sägende, dunkel bohrende Gitarren, ein unbändiges Schlagzeug und schließlich ein manischer Sänger bahnen sich ihren Weg durch nebelige, mit bösen, hinterrücks wirkenden Kreaturen bevölkerte, Schluchten. Und räumen auf! Etwa wie eine bösere, finstere Version der Marked Men (deren Mark Ryan hier auch gemixt hat) erscheinen die Hex Dispensers, sind dabei ähnlich catchy, aber bedrohlicher und in gewisser Weise mehr Horror Punk. Aber wenn, dann bitte eher im Sinne der kanadischer Spinner von Forbidden Dimension, oder als aufgekratzte Wipers Wiedergänger. (C)
3RD GENERATION NATION (GERMANY) JULY 2006 Erste Ueberraschung! Das 220g. schwere Vinyl laeuft auf 45 RPM. Die Musik von dem Trio aus Austin (TX) ist eine ziemlich spannende Angelegenheit. Die hoeren sich wie eine schwer angefuzzte PowerPop-Ausgabe der RAMONES (1976!) an. Von Anfang bis Ende absolut druckvoll! Ich fuehle mich etwas ueberrumpelt, dass mir die zehn Songs auf Anhieb so gut gefallen. Die zweite Ueberraschung ist die Cover-Version "Down In The Park" von TUBEWAY ARMY. Keine weiteren Worte. Dafuer die volle Sternchenausbeute! Unglaublich, wie leicht es doch sein kann, mich um den Finger zu wickeln. ( * * * * * ) (RRS)
INCOGNITO (GERMANY) APRIL 2007 Am 6.6.06 von ALEX CUERVO, TOM KODIAK und ALYSE MERVOSH gegründet.Alle 3 spielten zuvor auch bei THIS DAMN TOWN, Sänger und Gitarrist ALEX auch bei BLACKTOP, KING SOUND QUARTETT, GOSPEL SWINGERS, NOW TIME DELEGATION und A FEAST OF SNAKES, Gitarrist TOM bei den HATCHBACKS und KODIAKS, und Schlagzeugerin ALYSE bei den WINKS. HEX DISPENSERS kombinieren den typischen US Blues Punk Sound mit dem lockeren Songwriting der end70er Powerpop Punk Bands, und haben mit dieser ungewöhnlichen Kombination die reinste Hitfabrik ins Leben gerufen. Neben mitreißenden, melodischen Blues Punk Krachern wie "H.D. LOCAL" oder "Arsenic Milkshake" gibt es mit Nummern wie "Are You An Assassin?" oder "Forest Ray Colsen" regelrechte Hymnen. Songs wie das großartige "Channel 13 Is Haunted" klingt gar als würden die OBLIVIANS einen frühen Song der MISFITS covern. Wenn IN THE RED keine absolute Überraschung landet, wird das Debüt von HEX DISPENSERS wohl DIE Blues Punk Scheibe für das Jahr 2007. (ALIEN SNATCH)
OX #72 (GER) JUNE 2007: Knackige Mini-LP aus dem Hause Alien Snatch, das ein erstaunlich gutes Händchen für aufregende neue Bands hat und zu einer ernsthaften Konkurrenz der Platzhirsche wie In The Red wird. Zehn Songs, allesamt hitverdächtige Kracher, die mit einer Lockerheit aus dem Ärmel
geschüttelt klingen, wie ich es seit langem in dieser Sparte nicht mehr unter die Ohrmuscheln bekommen habe. Flotter eingängiger Bluespunk mit einem ansteckend fröhlichen Sexappeal, der einfach Laune macht und ähnlich zu fesseln weiß wie der erste Streich der GHETTO WAYS, nur eben wesentlich melodischer und einfach hammergeil. Die Wiederverwertung des ELO-Riffs aus "Don't bring me down" in "The crone" ist ebenso genial umgesetzt wie das Gary Numan-Cover. Die Horror-Gesamtthematik, die zwischen einer Bluespunk-Umsetzung von H.P. Lovecraft und anderen Weird-Tales-Stories angesiedelt ist, gibt der Platte eine ganz besondere Note. Schickes Cover, erstklassiger Sound, ich bin rundum zufrieden! Hier nicht mit dem Arsch zu wackeln fällt, wirklich schwer, wer das nicht kann, der kratzt sich wahrscheinlich derzeit mit einer Stricknadel unter dem Ganzköpergips.
Hit! (9) (9/10) (KS)
GREEN HELL (GERMANY) JUNE 2007 Da hat Daniel Alien Snatch ja mal wieder einen höchst interessanten Fang gemacht! Die Hex Dispensers sind ein neues Trio aus Austin, Texas, angeführt von Alex Cuervo (Gesang / Gitarre), der vorher unter anderem auch schon bei Blacktop, Gospel Swinger und Now Time Delegation auf sich aufmerksam machte. Auch der Rest der Band (Tom Kodiak und Alyse Mervosh) spielte schon in zahlreichen namhaften Bands des Garagen Untergrunds. Hex Dispensers vereinigen den typischen amerikanischen Blues Punk Sound mit der "Catchyness" und den Hooks der Spät 70er Power Pop Bands. Mittels dieser bisher beinahe undenkbaren Stil-Kombination haben sie ein enorm Hit-lastiges Album zustande gebracht. Das Hex Dispensers Debut brilliert mit melodischen Blues Punk Granaten die teilweise so klingen als würden die Oblivians auf die frühen Misfits treffen und als Krönung gibt es sogar ein Cover des Tubeway Army Hits "Down in the park"! Das Album ist definitiv ein Anwärter für die Jahres-Top 10.
Dig It ! (FRANCE) FEB 2010 Restons au Lone Star State avec le deuxième album des Hex Dispensers, le groupe d'Alex Cuervo (Blacktop, King Sound Quartet...), Tom Kodiak (Kodiaks), Alyse Mervosh (This Damn Town) et un petit nouveau, David Bessenhoffer qui faisait partie il y a plus de dix ans des Gimmies, auteurs d'au moins deux albums chez Estrus. Douze morceaux toujours très punk au menu de ce Winchester Mystery House qui évoque autant les Misfits que les Spits, Outsiders ou Lost Sounds pour les mélodies. Le son est terrible, ils font une excellente version du "Gates of Steel" de Devo, et pourtant j'éprouve comme une légère lassitude au bout du disque... Peut-être ce rythme toujours égal et entêtant. Mais ça reste, pour le moins, du bon. (LS)
Dig It ! (FRANCE) #37 JULY 2006 On commence avec un de nos labels préférés et deux nouvelles références qui viennent enrichir le magnifique catalogue de la maison allemande. Le C.V. d'Alex Cuervo était déjà long et fourni comme un bras de grizzly texan (il vient d'Austin l'animal !) : Blacktop et King Sound Quartet avec Mick "Dirtbomb" Collins, Gospel Swingers, Now Time Delegation (feat. Lisa Kekaula des BellRays et Tim Kerr entre autre) et plus récemment Feast of Snakes et This Damn Town. Et bien il écrit encore un chapitre avec les Hex Dispensers. Pour ce faire, il s'est entouré de deux compères, Tom Kodiak (guitariste des furieux Kodiaks, auteurs notamment d'un 7" sur Yakisakana) et Alyse Mervosh qui s'est illustrée à la batterie derrière les Winks ou This Damn Town. La recette élaborée par notre trio est plutôt épicée, avec une base garage-punk, un son assez froid, un chant tendance pop-wave et des pincées de Misfits / Ramones ("Are You An Assassin ?", "Channel 13 Is Haunted" ou la reprise de l'électro-freak Gary Numan "Down in the Park"), voire Flesh Eaters ("Arsenic Milkshake") ou Outsiders ("H.D. Local 23" qui n'est pas sans rappeler "Fixed Up"). On n'est pas très loin de Jay Reatard non plus (les deux morceaux qui ouvrent la face B en sont un bon exemple), il s'est d'ailleurs chargé du mastering du disque. Alex n'omet pas la touche groove qui a toujours prédominé dans la plupart des formations dont il a fait partie, comme sur "Tentacles !". Une sacrée expérience mise en scène à la maison par Mark Ryan, chanteur des Marked Men. (GC)
RUMORE #215 (Italy) DEC 2009 Tornano gli Hex Dispensers il cui album omonimo del 2007 mi aveva fatto gridare al miracolo. E, nonostante abbia poca voce, mi è toccato gridare di nuovo. Il barbuto Alex Cuervo e i suoi sodali ne sanno una più del diavolo. Questi misconosciuti eroi della prolifica scena di Austin fanno suonare le chitarre come pochi nel panorama "punk" odierno, riuscendo ad infilare massicce dosi di melodia agrodolce nella torbida oscurità delle tenebre. Power pop, punk, r'n'r e dark wave gareggiano a chi fa il rimbalzo più alto, se capite cosa intendo. Il poster dei Ramones appeso nella parete di destra, quello dei Misfits nella parete di sinistra, mentre loro sfondano a testate il cemento armato nel centro. Inutile citare un pezzo piuttosto che un altro. Qui dentro ci sono 12-hit-12 dal potenziale enorme, compresa la cover innervata dei Devo, Gates of Steel, che chiude col botto. Winchester Mystery House è un disco che non fa rifiatare: provate ad ascoltarlo in apnea, se ci riuscite! (MG)
RUMORE #188 (Italy) SEP 2007 Chi, scribacchiandone, è abituato a rimestare nell'immondizia r'n'r ogni tanto trova delle vere e proprie pepite a cui bisogna soltanto togliere la polvere. Quando ciò avviene si è capaci di far stazionare il disco sul piatto per settimane, fregandosene delle ultime novità più o meno sbandierate dagli strilloni della scenetta. A me è capitato con l'album omonimo di questa nuova band texana capeggiata da Alex Cuervo: un tizio che ha suonato con Mick Collins in Blacktop e King Sound Quartet e ancora in Gospel Swingers, The Now Time Delegation, A Feast Of Snakes, ecc. Il trio imbastisce una strana forma di garage-wave-power pop, resa particolarmente affascinante da un'attitudine horror bluesy satura di elettricità. Sembra di vedere e sentire Ramones e Misfits (Channel 13 Is Haunted) appena usciti da un coiffeur chiamato Jay Reatard, non a caso produttore dell'album. Insomma, se dovessi immaginare una "punk band" che musica i racconti di Edgar Allan Poe, non avrei alcun dubbio: The Hex Dispensers, appuntatevi questo nome! (8/9) (MG)
KICK OUT THE JAMS (SPAIN) MARCH 2008 Nuevo trabajo de Hex Dispenser y en uno de mis sellos favoritos, motivo mas que suficiente para sacudirse los cuartos de mi agujereado bolsillo. Su primer lp para Alien Snatch! ya me engancho girando a 45 revoluciones y este single no es menos con ese "Lose My Cool" que da titulo al disco, en la cara b otro increíble tema propio "Taxidermy Porno" con la guitarras llenas de personalidad y una versión del "Tragedy" de los seminales Wipers. Si tras escucharla no empiezas a interesarte por la banda de Greg Sage, esto no pinta nada bien. Un single de punk rock en toda regla, al menos así lo entiendo yo y una pieza mas en la construcción de ese pequeño sello que me tiene enganchado. (OA)
RADIO CITY DISCOS (HOLLAND) MAY 2007 Este disco va camino de convertirse en uno de los debuts de la temporada. Proceden del inabarcable Austin, y sus padrinos y productores son dos nombres de postín, Mark Ryan (de nuestros admirados Marked Men) y el hombre de moda en todo tipo de "ambientes", Jay Reatard. Pero cuidado que al frente de este trío esta Alex Cuervo (Blacktops/Now Time Delegation), un "veterano" curtido en mil batallas como algo mas que subalterno de lujo de Mick Collins. Veloces guitarras, infectas melodías y un poquito de "cacharrería" .Un formula adictiva, y que aquí nos vuelve locos. Enlances: Real Kids, Oblivians, Gospel Swingers.

PLANET TRASH (HOLLAND) MAY 2007 Attentie! Geweldige plaat ontdekt! The Hex Dispensers is een trio afkomtig uit Austin, Texas en heeft net zijn eerste (uiteraard) titelloze plaat uit. Hoe ze het voor elkaar hebben gekregen is onbekend, maar daar waar vele bands faalden is het The Hex Dispensers gelukt. De perfecte mix tussen de Ramones en de Oblivians is gevonden en op plaat gezet. The Hex Dispensers is volgens de officiele lezing begonnen op 06-06-06, maar dat klinkt natuurlijk te mooi om waar te zijn. Het drietal bestaat uit Alex Cuervo (gitaar en zang), Tom Kodiak (gitaar) en Alyse Mervosh (drums) en hebben hun plaat laten opnemen door Mark Ryan van The Marked Men en laten masteren door Jay Reatard. Een perfecte combinatie. Vierentwintig minuten en 55 seconden van gruwelijke genialiteit. Eigenlijk zijn alle tien nummers, inclusief Tubeway Army's Down In The Park, instant klassiekers, maar Forest Ray Colson is de onbetwiste nummer één gevolgd door Evil Eye en Are You An Assassin?. Deze plaat komt met de hoogst mogelijke aanbeveling en mag aan het eind van het jaar in geen enkele jaarlijst ontbreken. Ik kom dat in december persoonlijk controleren, dus wees gewaarschuwd.
RADIO STUDENT LJUBLJANA (SLOVENIA) AUGUST 2007 Podrocje »texaškega« Austina že nekaj desetletij slovi po izvirnih in samosvojih punk rockerjih. Tudi Hex Dispensers izvirajo iz tega okolja. Verjetno ni potrebno posebej predstavljati pevca, basista in kitarista Alexa Cuerva, saj si je ta z vecletnimi glasbenimi aktivnostmi ustvaril prepoznavno ime. Naj samo spomnimo na nekaj bendov, v katerih je svoje case igral. Med njimi se znajdejo nepozabni Blacktop, King Sound Quartet, The Gospel Swingers, Now Time Delegation, A Fist of Snakes, The Brotherhood of Electricity in že omenjeni This Damn Town. Ni kaj, lista zloglasnih imen je kar dolga in še bi jo lahko podaljšali, ce bi navedli vsa njegova sodelovanja v razlicnih glasbenih projektih. (v celoti!)
* Hex Dispensers so v lanskem letu s svojimi prvimi koncertnimi nastopi in demo posnetki povzrocili veliko hrupa. Ameriško obcinstvo je bilo navdušeno nad njihovimi nastopi, radijske postaje so zavzeto predvajale njihove demo posnetke, tako da je bilo samo še vprašanje casa, kdaj bodo posneli tudi svoj glasbeni prvenec. Zgodba se je pricela razvijati zelo spontano. Uveljavljeni »dratarski« macek Alex Cuervo in bobnarka Alyse Mervosh sta na stranski tir zapeljala bend This Damn Town, da bi svoje glasbene ideje osvežila v stranskem glasbenem projektu. Glede na obetajoc prvenec, ki je poimenovan po imenu »teksaškega« prodornega tria, lahko pricakujemo še kaj vec od zgolj zacasnega stranskega projekta.
Podrocje »texaškega« Austina že nekaj desetletij slovi po izvirnih in samosvojih punk rockerjih. Tudi Hex Dispensers izvirajo iz tega okolja. Verjetno ni potrebno posebej predstavljati pevca, basista in kitarista Alexa Cuerva, saj si je ta z vecletnimi glasbenimi aktivnostmi ustvaril prepoznavno ime. Naj samo spomnimo na nekaj bendov, v katerih je svoje case igral. Med njimi se znajdejo nepozabni Blacktop, King Sound Quartet, The Gospel Swingers, Now Time Delegation, A Fist of Snakes, The Brotherhood of Electricity in, že omenjeni, This Damn Town. Ni kaj, lista zloglasnih imen je kar dolga in še bi jo lahko podaljšali, ce bi navedli vsa njegova sodelovanja v razlicnih glasbenih projektih.
Kot trdi Cuervo, so si This Damn Town vzeli cas za pocitek, ceprav imajo pripravljen material za novi album. Ravno zaradi tega se je ponudila priložnost, da Hex Dispensers postanejo osrednja tocka Alexovega in Alyseinega ustvarjanja. Samosvoji bobnarki in odštekanemu kitaristu se je pridružil še drugi kitarist, Tom Kodiak, ki se je pred tem preizkušal v zasedbah The Kodiaks in Dirty Sweets. Prekaljeni »trojec« se je neobremenjeno odpravil v studio in nastali so neposredni, energicni posnetki. Album je marca izšel pri prodorni nemški založbi »Alien Snatch! Records«, ki se posveca umazanim punk rockovskim, garažnim in tudi melodicnim »power pop« zvokom. Obravnavana trojica se izvrstno ujame s konceptom založbe, saj so v njihovi godbi prisotni vsi omenjeni elementi, ki so znacilni tudi za sorodne »Alien Snatch!« varovance. Poleg tega ostajajo Hex Dispensers še vedno zavezani glasbenim praksam, ki so jih v preteklosti razvijali Alex Cuervo, Mick Collins in Tim Kerr v zvenecih zasedbah in stranskih projektih. Asociacije na imena, kot so The Gories, Dirtbombs, Blacktop, Now Time Delegation ali King Sound Quartet se ob poslušanju prvenca Hex Dispensers ponujajo same od sebe.
Proces snemanja in mešanja zvoka na obravnavanem prvencu je kontroliral Mark Ryan, ki je bolj znan po svoji teksaški punk rock zasedbi Marked Man, medtem ko je za koncno zvocno obdelavo poskrbel še en od prepoznavnih punk rock »garažarjev«, Jay Reatard. Koncni izdelek deluje izredno sprošceno, neposredno, a tudi ucinkovito. Sestavljajo ga enostavne »tro-akordne« skladbe, ki jim ne manjka ritmicnega naboja in znacilne Cuervove nagnjenosti k melodicnim strukturam. Alex Cuervo s svojimi iskrivimi akordnimi kombinacijami operira zelo domiselno, vendar enostavno. Privlacne repetitivne skladbe so obogatene z zanimivimi prehodi in kitarskimi vložki, vendar brez nepotrebnih »soliranj«. Energicni punk garažni model se nesramežljivo spogleduje z bluesovskimi in soulovskimi prijemi, k cemur izdatno pripomore Cuervov opojen in nekoliko prekajen glas, ki celoto napolni s svojim šarmom. Njegovo petje se odlicno ujema z minimalisticnim instrumentalnim pristopom. Zvocno zgradbo podpira Alysein mocan, toda izjemno asketski bobnarski ritem s krepko bas nogo v ospredju. Alyse s svojim bobnarskim slogom dokazuje svojo veliko nadarjenost in se brez težav kosa z bobnarji podobnih žanrskih izhodišc. Kitara Toma Kodiaka poskrbi za dinamicno napetost med posameznimi inštrumenti in se smiselno dopolnjuje z Alexovim preizkušenim modelom. Skladbe so preproste, kratke, a tudi dovolj energicne in zvocno zgošcene, tako da ne zasledimo kakšnih motecih praznin, ki bi sicer lahko nastale zaradi prvinske zasedbe.
Album bi lahko opisali s tremi kljucnimi besedami: mocno, kratko in ucinkovito. Ce boste celoto poslušali nekoliko nepazljivo in boste na svojih predvajalnikih pritisnili gumb za ponovno predvajanje, boste težko ugotovili, kje je zacetek in kje konec albuma. Zvocna celota je namrec skoncentrirana na dobrih 26 minut, poleg tega je zaznamovana z elementom neprestane repeticije. Prehodi med posameznimi skladbami so tekoci in skorajda neopazni. Komaj se dobro vpeljemo v album, že ga je konec. V žanrskih variacijah punk rocka in »garaže« je to pogosta znacilnost, ki na ravni užitka doseže neposredno zadovoljitev. Prav temu je tudi namenjena godba radoživih Hex Dispensers, zato v njihovem glasbenem izrazu ni potrebno iskati višjih umetniških ambicij. Teksti skladb se kopicijo okoli ponavljajocih se refrenov, ki znajo biti tudi hudomušno kriticni, vendar jih je v nabiti zvocni masi dokaj težko razumeti. To verjetno niti ni bil namen obetajocega tria, saj pri njih glasovna interpretacija v prvi vrsti služi kot legitimna glasbena prvina.
Hex Dispensers nas torej navdušijo na prvo žogo. Ljubitelji stare dobre šole teksaškega punk rocka, ljubitelji garažnega rocka in novih bendov, kot sta na primer Black Lips ali Black Time, bodo ob poslušanju iskrivega kitarskega izbruha gotovo potešeni. Na albumu je nekaj nespornih hitov, med katerimi s svojo melodicno razigranostjo izstopa skladba »Are You an Assassin?«.
pripravil Brane Škerjanc